Grilling imparts such a nice flavor and crispiness to bread. Rather than just slicing a baguette and grilling it with a little olive oil, I thought I would try my had at making some unique flatbreads from scratch and seeing if they would cook up nicely on a George Foreman Grill.
The recipes here have some international roots. Some are gluten free (GF).
Chapatis: This is a GF recipe that hails from India. The main ingredient is garbanzo bean flour, also known as besan or gram flour. It used to be that you could only find this in Asian markets. Now, you can pick it up at Whole Foods. And, it is right next to the arrowroot powder, another ingredient in the recipe. If you have a local Indian market near you, get the flour there. It will be much less expensive. These flatbreads are actually crunchy and more like a cracker that you can pile things in top of. For a softer version, grill with the top open or for less time.
Cabbage & Green Onion Flat Breads: These are really substantial and pretty healthy. They are not GF, but can be made GF by using tasty sorghum or buckwheat flour mixed with 2 TBS of arrowroot powder. The origins of the recipe are rooted in Asian cuisines. Some versions of this recipe often include chopped poblano chili peppers in place of the scallions to make them spicier. The spice and herb elements can be left to your own liking. These grilled breads are full of fiber, vitamins, and flavor.
If you are interested in arepas, we also have an article with three delicious arepa preparations.
Grilled Chapatis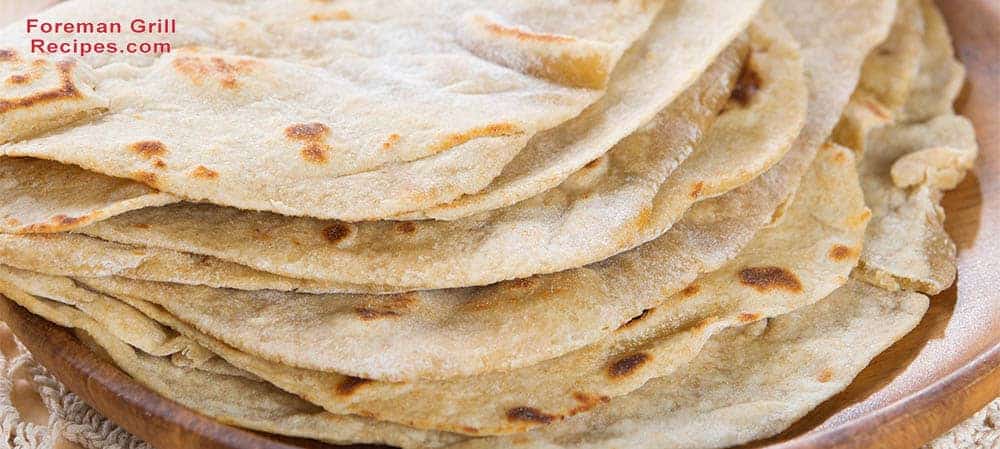 Ingredients:
1 cup garbanzo bean Flour
2 TBS arrowroot powder (can substitute tapioca flour, potato starch, or kudzu)
1/2 tsp sea salt
Sesame seeds (optional)
1 TBS extra virgin olive oil + more for grilling
1/3 cup filtered water
Garbanzo bean or brown rice flour for rolling dough
Extra virgin olive oil and sea salt for grilling
Total time:17 min – Prep time:10 min + 20 min to chill – Cook time:7 min – Serves:4 people
Author: Nick
Directions:
1. In a bowl, combine the dry ingredients. Add the olive oil and slowly add the water while mixing. The dough should form a ball that is not too wet or sticky, so be judicious with the water. On a humid day, you might not need it all. Gather the ball and knead a few times with your hands. Place the ball in plastic wrap and chill it in the refrigerator for at least 15 minutes, as you would pastry dough.
2. Pull the dough apart to form 8 to 10 equal size balls. Flour a cutting board or countertop. Flatten a ball with the heel of your hand. Flip it over and roll to an approximately 1/8" disc. Continue until all balls are rolled out, adding more flour as needed. You can pile these on top of one another.
3. Heat your basic grill to high. Brush both sides of your breads generously with olive oil. Grill as many as will fit with the top closed for 4 minutes. Flip the breads over, sprinkle with a little salt, and close the lid for another 4 minutes. Continue until all of the breads are cooked. Serve with toppings on the side, such as chutney, grilled vegetables, or cooked beans.
Cabbage and Green Onion Flatbreads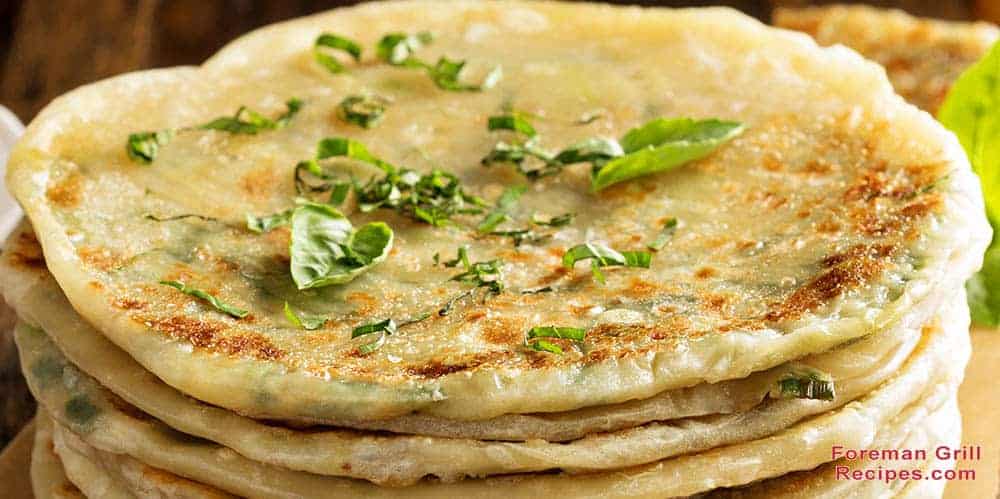 Ingredients:
1 cup unbleached white flour
1 cup whole wheat flour
2-1/2 tsps curry powder
2-1/2 tsps black sesame seeds (white is fine)
1 tsp sea salt
2 cups shredded cabbage (green, savoy, or red)
2 scallions sliced thinly, white and green parts
2 TBS vegetable oil + more for grilling
3/4 cup filtered water
Flour for rolling
Total time: 33 min – Prep time: 25 min + 15 min to rest – Cook time: 8 min – Serves: 4 people
Directions:
1. In a large mixing bowl, combine all of the dry ingredients. Add in the shredded cabbage and sliced scallions. Combine by hand. Add the oil and water (a little at a time until moist enough) and mix well. Knead the dough with your hands and form into a ball. Cover the bowl with a towel and allow the dough to rest for 15 minutes.
2. Separate the dough into 12 equal size balls. Dust a board or countertop and roll each ball into 1/8" thick round discs by turning frequently to get them even. Don't worry if they aren't perfect as this is rustic bread that is eaten with your hands.
3. Preheat your Foreman Grill to high. Brush or spray the preheated grill surface generously with vegetable oil. Place as many flat breads as will fit on your hot grill and close the lid. Grill for 4 minutes and flip the breads over. Add a little more oil on top of the breads if needed. Close the lid and grill for another 4 minutes. Add more oil and repeat until all breads are cooked. Sprinkle a little sea salt on the hot breads, if desired.
4. Serve with red lentil dal, chopped cucumber and yogurt raita, or sliced avocadoes, as some suggestions. Store uneaten breads in plastic wrap in the refrigerator for a couple of days.