Looking for easy and delicious recipes to prepare on your George Foreman Grill? You've come to the right place. The Foreman Grill is a indoor electric grill that allows you to prepare delicious grilled food with all the flavor of traditional outdoor grilling.
Perhaps you thought your George Foreman Grill was only for basic burgers or hot dogs. But you can create delicious meals using a variety of meats and vegetables including tilapia, filet mignon, sirloin steak, asparagus and much more. It's so much easier than firing up the outdoor grill and dealing with the mess and hassle. You will also free up room in your oven or on the stove top by using the Foreman Grill. The meal ideas are endless.
Find easy and delicious recipes for your George Foreman Grill including chicken, steak, burgers, seafood, vegetables, sandwiches and more. We have all the best Foreman Grill recipes. If you've had that Foreman Grill or other indoor grill sitting around for a while and haven't used it, it's time to give it a try. You'll be amazed at all the great food you can cook and how it can make your mealtimes easier.
We also have a helpful guide on how to choose the Best George Foreman Grill to Buy and a Foreman Grill grilling time chart.
Take a look through our growing collection of indoor grill recipes. If you like your food smoked, take a look at our sister site: Masterbuilt Smoker Recipes or if you like to cook using an air fryer, then I recommend: Air-Fried.com.
Featured Recipes: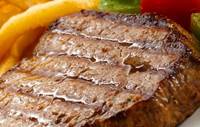 Easy Grilled Beef Steak with Garlic Butter
Here's a steak recipe for your Foreman Grill that you'll make again and again. It uses simple ingredients, is fast to prepare, and is so juicy and tender you won't believe it's not from a fancy restaurant. The garlic butter will make the steak absolutely melt in your mouth with delight. This is a must try!
---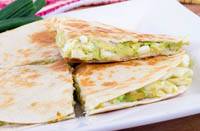 Chicken Quesadillas
Making delicious quesadillas using your George Foreman Grill could not be easier. This recipe only uses a few ingredients and can be made in just minutes. You can use your own chicken or use the recipe right here on the site for a tasty grilled chicken.
---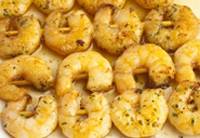 Grilled Shrimp with Garlic Butter
This shrimp recipe is just what the name says – unbelievable! You'll absolutely love how easy it is to make and with the garlic butter – oh my goodness it will melt in your mouth!
---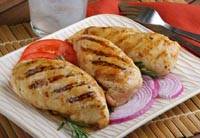 Boneless Skinless Chicken Breast
This recipe for Easy Grilled Chicken Breast includes all the basics for making boneless skinless chicken breast on your Foreman Grill. Add your own favorite seasonings, herbs and spices and this starter recipe becomes a custom favorite.
---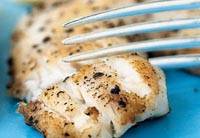 Easy Foreman Grill Tilapia
Tilapia one of the easiest fish dishes to make on your Foreman Grill. This recipe uses the basics for making grilled tilapia. The one exception is the smoked paprika. It's a wonderful addition and adds a nice smoky flavor that you'd normally get from an outdoor grill. Once you try this recipe on your Foreman Grill, you'll find yourself making it again and again.
---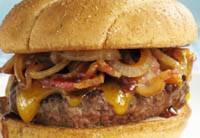 Pub Burger Recipe
A big juicy burger is a specialty of many pubs and grills around the world. There's just something about a pub burger that excites the senses. Making a juicy and delicious pub-style burger on your George Foreman Grill is easy and takes only a few basic ingredients.
---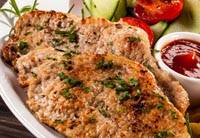 Brown Sugar Grilled Pork Chops
Here's an amazing recipe that takes easy grilled pork chops to an all new level. The sweetness of the brown sugar perfectly accentuates the flavors of the pork for a taste explosion!
---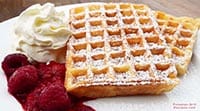 Foreman Grill Waffles
Let's get back to basics with a good old fashioned waffle recipe and make steaming hot, fresh waffles using the George Foreman Grill with the removable waffle iron plates inserted.
---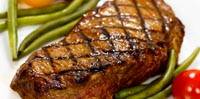 Easy Sirloin Steak
Making steak on your Foreman Grill is both easy and delicious. You can make tender, juicy, and delicious steaks, despite the common misconceptions. Give this easy recipe a try. You won't be disappointed!