Kofta kebabs are grilled skewers of well-seasoned ground meat, popular in many Middle Eastern Cuisines. These are often served with fresh vegetables or salads, pita bread, and a yogurt or tahini sauce. The seasonings vary from country to country. If you are following a keto diet, skip the pita bread.
The meat can be either beef or lamb. It is mixed with fresh herbs and aromatics, as well as dried spices. The meat is then formed around wood or stainless steel skewers into a 4 to 6 inch kebab, almost like a long, skinny meatball. The skewers make it really easy to turn the meat so that it cooks evenly.
You can grill the kebabs over a charcoal fire, which is common. However, I don't always feel like firing up my grill to cook kofta because they take only minutes. Instead, I grill them in batches on my George Foreman contact grill. You could certainly use a GF indoor/outdoor grill to achieve the same results.
What to Serve with Kofta Kebabs?
Many enjoy making a pita sandwich by using the bread to pull the meat from the skewer and adding vegetables and tahini or yogurt sauce. I actually prefer to eat the kebabs over greens with a sauce. You can even eat the meat right off the skewer with your hands. Either way, it is a good idea to have a variety of accompaniments on hand to complete the meal.
It is especially popular to offer leafy greens, tomatoes, and sliced onions, along with sliced pitas. I would go a little further and offer prepared salads, such as bulgur tabbouleh salad, chopped cucumber and tomato salad, and Mediterranean chickpea salad with feta cheese. You can make all of these ahead of time.
As for sauces, a simple tahini sauce, garlicky yogurt sauce (recipe included), and a creamy hummus are great. Again, these can be prepared well ahead of time and stored in the fridge until ready to serve.
Depending on the diet you follow, tailor your accompaniments to accommodate your needs. The recipe here is keto and gluten-free compliant.
Grilled Kofta Kebabs with Yogurt Sauce Recipe (Keto and Gluten-Free)
Ingredients:
Yogurt Sauce
1-1/4 cups plain Greek yogurt
1-1/2 TBS extra virgin olive oil
1 TBS fresh lemon juice
1 garlic clove, finely minced
2 tsps sumac or lemon pepper seasoning
1/2 tsp sea salt
Meat Kebabs
1 pound lean ground beef or lamb
1/2 bunch flat leaf parsley, minced
3 mint leaves, minced (optional)
1/2 small onion, finely chopped
2 cloves garlic, minced
1/2 tsp kosher salt
1/2 tsp ground cumin
1/2 tsp freshly ground white or black pepper
1/8 tsp ground cinnamon
Extra virgin olive oil for cooking
Total time:25 min – Prep time:20 min – Cook time:5 min – Serves:2 people
Author: Nick
Directions:
Yogurt Sauce
1. In a medium mixing bowl, whisk together the yogurt, olive oil, and lemon juice. Stir in the garlic, sumac or lemon pepper, and salt. Set aside while you prepare the kebabs.
Meat Kebabs
2. In a large mixing bowl, combine the ground beef, parsley, mint, onion, garlic, salt, cumin, pepper, and cinnamon. Use your hands to mix this all together.
3. Preheat your George Foreman contact grill for 5 minutes with the top closed. Put the drip tray in place.
4. Have a small bowl or cup of cold water nearby. Divide the ground meat mixture into 6 equal sized balls. Skewer a ball of meat: Dampen your hands with a little water and shape the meat around the skewer into a sausage or tube. Repeat until all 6 skewers are finished.
5. Brush or spray the kofta with olive oil to coat each. Place 3 skewers on the grill and close the top. Grill for 2 minutes, then rotate and close the top again. Grill for an additional 2 to 3 minutes until cooked through. Repeat with the remaining 3 skewers.
6. Place the skewers on a serving platter with the bowl of sauce and a few halves of pita bread or keto/Paleo compliant wraps. Serve with recommended sides or your favorite keto compliant chopped salad, avocado slices, feta cheese, and lettuce leaves. These are easiest to eat when pulled or pushed off of the skewers. A Keto Middle Eastern salad recipe follows.
Middle Eastern Salad Recipe (Keto, Paleo, Vegetarian, Vegan, and Gluten-Free)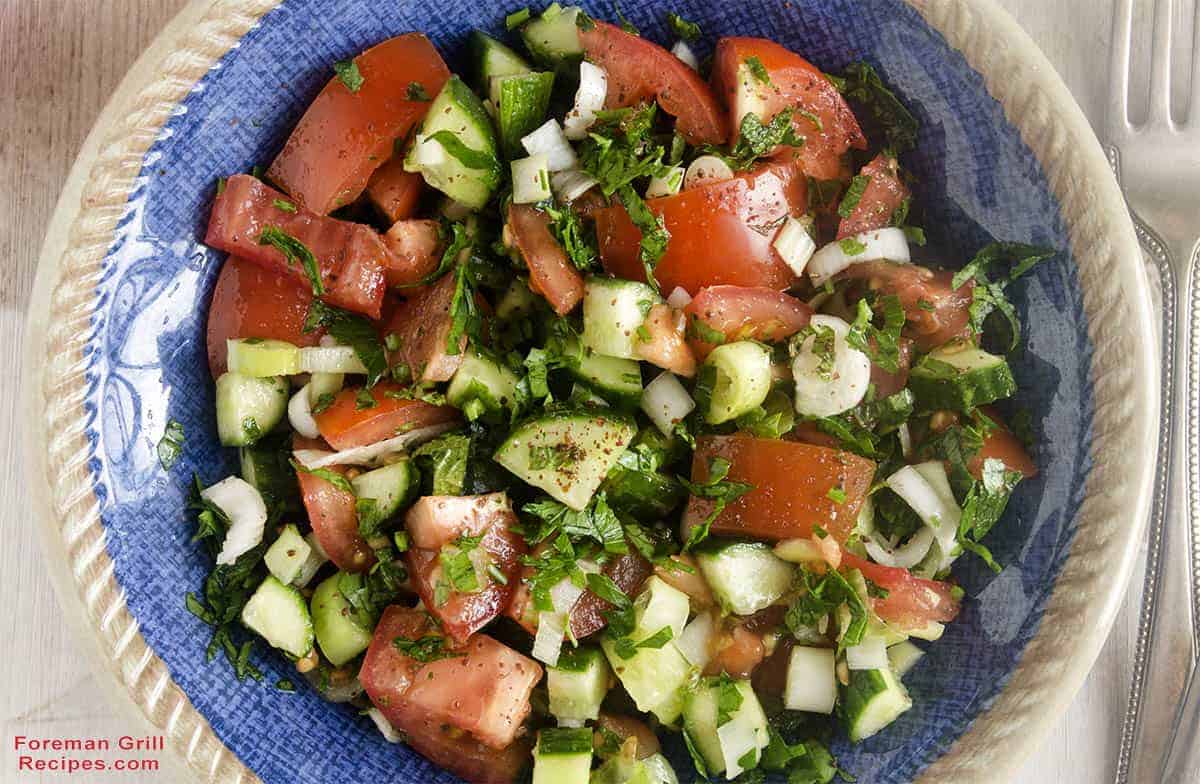 Ingredients:
2 cups diced ripe tomatoes
2 cups diced English cucumber
1 cup diced red or orange bell pepper
1/4 cup diced red onion
1/3 cup minced flat-leaf parsley
2 TBS minced mint leaves
2 TBS fresh lemon juice
1 TBS extra virgin olive oil (more if desired)
1/2 tsp kosher salt
1/2 tsp freshly ground pepper
Total time: 5 min – Serves: 4 people
Directions:
1. In a salad serving bowl, add the fruits, vegetables, aromatics, and herbs. Toss to combine. Add the lemon juice, olive oil, salt, and pepper. Toss again to dress everything.
2. Serve with your kebabs or cover and refrigerate until ready to serve.
Variations on Kofta Kebabs
Being that Middle Eastern cuisines vary from country to country and even village to village, there are different ways to season the meat or add ingredients. The recipe outlined here is pretty close to a Turkish style kofta kebab. Let's explore the variations in different areas of the Middle East.
Jordan: In Jordan, the kofta may be more like grilled lamb meatballs and likely not cooked on skewers. You may also see recipes from This region with a pinch of ground cloves added to the ground meat.
Israel: What I enjoy about Israeli cuisine is the simplicity so that the main ingredient shines. The ingredient list is usually manageable. The word "kufta" in Israel means meatball. Small meatballs are skewered and grilled, rather than formed into a sausage shape. You might see a combination of beef and lamb in many recipes and a pinch of cayenne pepper.
Greece: On the flip side, Greek kofta is a bit more complex and well-seasoned with additional spices and herbs, such as local oregano and allspice berries. When I make Greek style kofta, I also add an egg, raisins, and a bit of tomato puree. This is similar to Greek meatballs, also referred to as soutzoukakia. Traditional soutzoukakia is served with a light coating of fresh tomato sauce. You can take the meatball mixture (with the additions) and form it around skewers, grill them, and serve with a little tomato sauce or yogurt tzatziki sauce on the side.
Basically, you can design your own kofta kebabs recipe, depending on what you have in your refrigerator, pantry, and garden. You can make these with ground turkey, ground pork, ground veal, or a combination of different meats.
As for spices, the sky's the limit. The same is true for condiments and sides. I personally enjoy kebabs served over rice or pretty much any salad as a protein component. I have also been known to drop the cooked kebabs into a pot of tomato sauce or brown gravy. These are great leftovers in soups, stews, casseroles, and chilis. So, make a big batch to eat and then repurpose during the week. They will store well in the fridge.