As much as we all enjoy a crisp apple just picked from the tree, apples do beg to be cooked sometimes. That could be boiling them down into a chunky applesauce infused with cinnamon, baked in an overflowing apple pie, pureed into a creamy apple butter to spread on toast, or stuffed apples that are baked or smoked whole.
I often have lofty plans of making all of the above for friends and family with the enormous bounty that I get from the orchard in fall. I always take home more than I can use. So, some do make it into jars of applesauce and apple butter that I pressure can and put up for the winter. These do make great holiday gifts.
The truth is, I always have too many apples. I have found that my George Foreman Grill is the perfect remedy for this problem. I admit to being a less than stellar baker. I am okay when I have the patience to measure properly. Yet, I tend to shy away from overly complicated desserts. My go-to desserts are strawberries with a yogurt/honey dip in summer and grilled apples with cinnamon and honey in fall and winter.
I love taking really fresh and crisp apples, coring them, slicing into 1/4 inch thick rounds and grilling them in butter on my GF contact grill. I dress them with honey or maple syrup and cinnamon. I serve the slices warm and I never get any complaints for my easy and healthy dessert. These are delicious and only take minutes to prepare.
There are many ways to take grilled apples to the next level. A scoop of creamy vanilla ice cream is a good option. You can also make a crunchy granola to add a little texture or get saucy with homemade butterscotch or chocolate syrup. I have included recipes for all of these.
For grilling, I recommend using firm apples. Pink Lady, Honeycrisp, and Granny Smith all work pretty well. Less firm apples will transform into a mushy texture. This is fine if you are planning on making applesauce. When grilling apples in batches, keep a bowl of acidulated water nearby. This will prevent the apples from turning brown while waiting to be grilled. I don't peel the apples, but you certainly could.
Grilled Apple Slices with Honey and Cinnamon (Vegetarian & Gluten Free)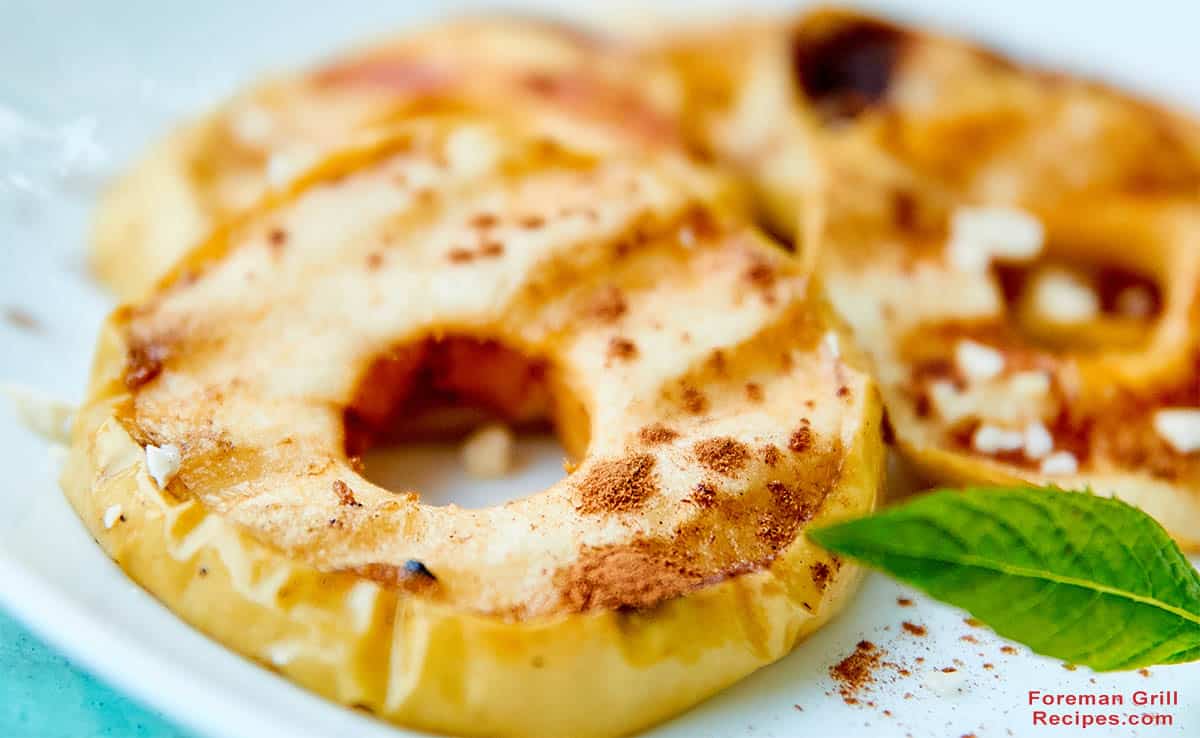 Ingredients:
2 firm apples
1 cup water
Juice of 1/2 a lemon
2 TBS salted butter
1 TBS runny honey
1 teaspoon ground cinnamon
Total time:18 min – Prep time:10 min – Cook time:8 min – Serves:4 people
Author: Jason
Directions:
1. Preheat your GF contact grill to high with the top closed for 5 minutes. Put the drip tray in place.
2. Fill a shallow bowl with the water and lemon juice.
3. Core the apples. Cut them into 1/4 inch thick slices. Place the slices immediately into the water and lemon juice.
4. Generously butter both grill plates. Place as many apple slices as will fit on the grill and close the top. Grill for 4 minutes. Flip the slices and continue to grill for another 3 to 4 minutes until there are nice grill marks and the apples are just starting to soften.
5. Remove the slices to a serving platter. Repeat the process until all the apples are cooked.
6. Drizzle the honey over the apples and sprinkle them with cinnamon. Serve immediately.
Granola for Topping Grilled Apples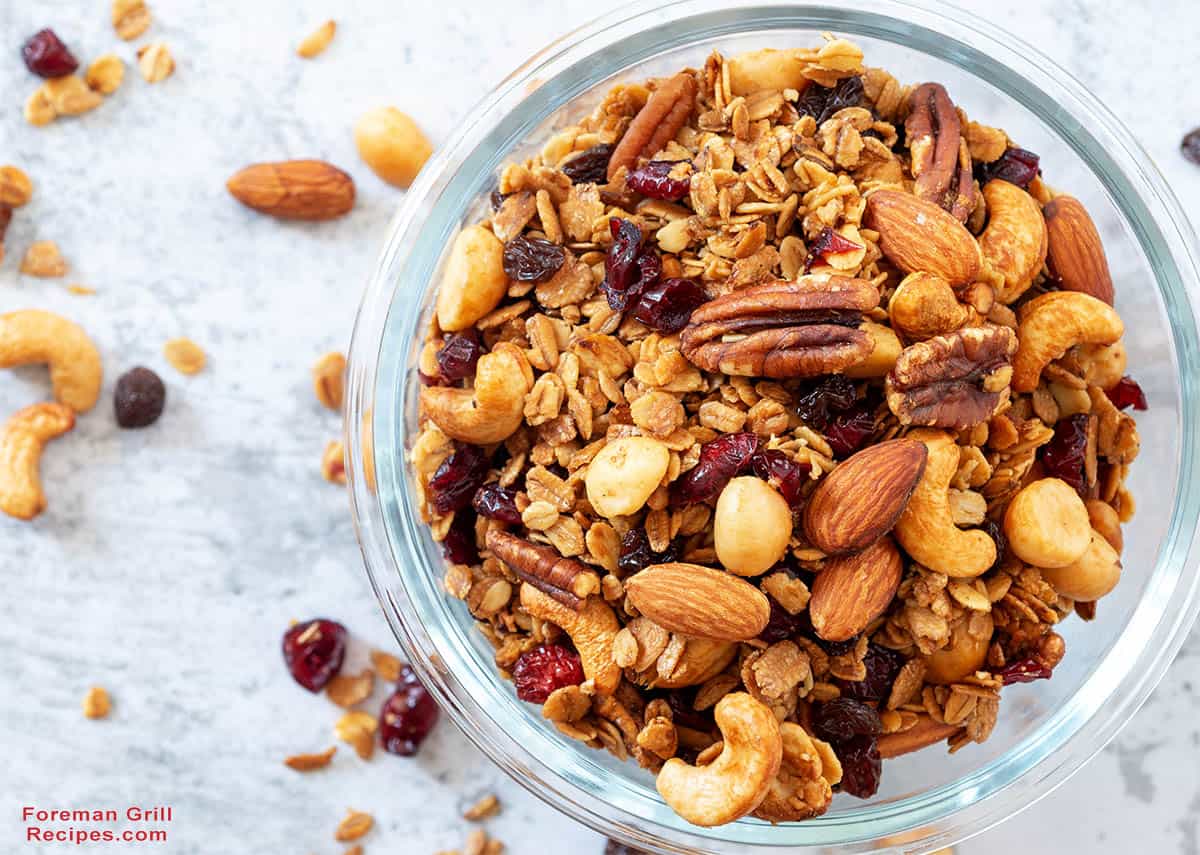 Ingredients:
1-1/3 cups old-fashioned rolled oats (not quick cooking)
1/3 cup sliced raw almonds or chopped raw walnuts
1/4 cup shredded unsweetened coconut
2 TBS raw pepitas (hulled pumpkin seeds)
1/2 tsp ground cinnamon
1/8 tsp sea salt
2-1/2 TBS pure maple syrup
2 tsps canola or grapeseed oil
1 tsp pure vanilla extract
1/4 cup raisins
Total time: 55 min – Prep time: 10 min – Cook time: 45 min – Serves: 4 people
Directions:
1. Preheat your oven to 275°F.
2. On a rimmed sheet pan, combine the oats, nuts, coconut, pepitas, cinnamon, and salt. Pour the syrup, oil, and vanilla over the granola and mix again to coat everything evenly.
3. Place the pan in the oven and bake for 45 minutes or until golden brown and crisp. Stir the granola every 15 minutes.
4. Allow the granola to cool. Then, add the raisins and toss to combine.
5. Serve over cooked apples or store in an air-tight container or sealable baggie.
Butterscotch Sauce for Grilled Apples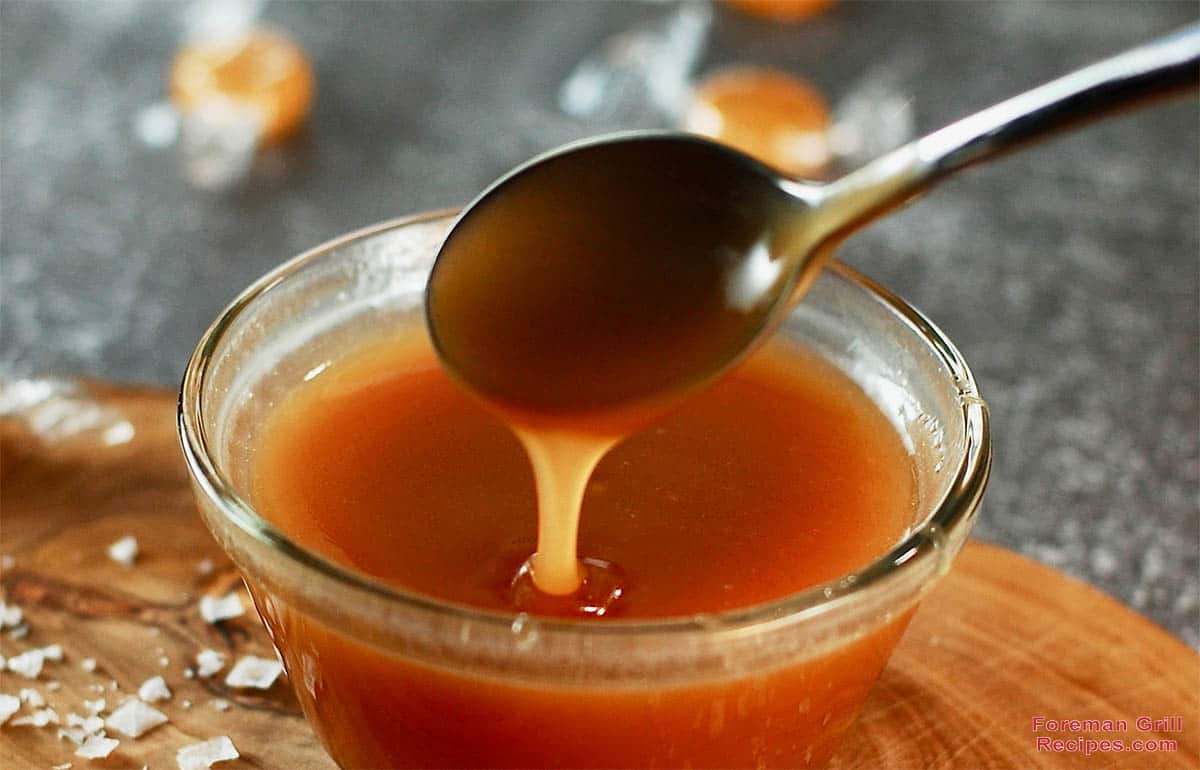 Ingredients:
1/2 cup + 2 TBS light brown sugar
1/3 cup light corn syrup
2 TBS unsalted butter
1/2 cup heavy cream
1 tsp pure vanilla extract
Total time: 30 min – Prep time: 10 min – Cook time: 20 min – Serves: 4 people
Directions:
1. In a heavy-bottomed saucepan over medium heat, combine the sugar, corn syrup, butter, and 1/3 cup of the cream. Bring to a boil, stirring continuously. Reduce the heat to medium-low. Using a candy thermometer, allow the mixture to come up to 235°F.
2. Remove the pan from the heat. Slowly stir in the remaining cream and vanilla to make a thick, runny sauce.
3. Allow the sauce to cool slightly. Then, pour the warm sauce over the apple slices and enjoy. Or, store the sauce in a covered glass jar in the refrigerator until ready to use. You can soften and warm up the sauce by placing the jar in a pot of gently simmering water.
Chocolate Syrup for Grilled Apples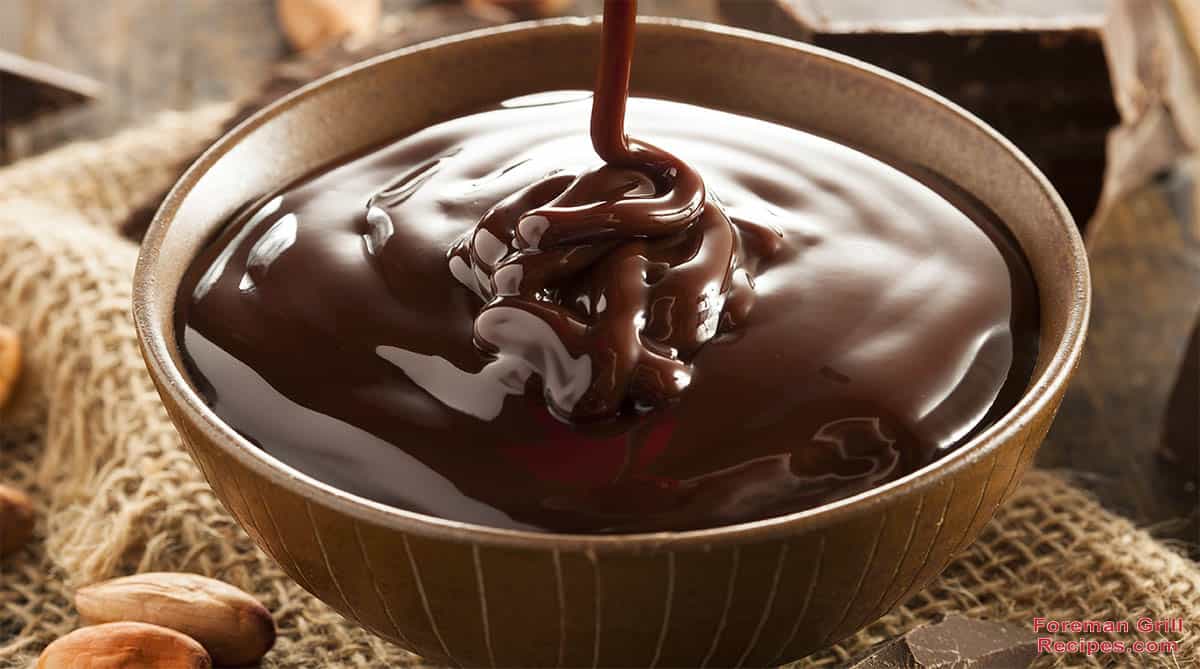 Ingredients:
1/2 cup water
1/3 cup unsweetened cocoa powder
2 TBS granulated sugar
3/4 tsp pure vanilla extract
Pinch of sea salt
Total time: 11 min – Prep time: 10 min – Cook time: 1 min – Serves: 4 people
Directions:
1. In a small saucepan over medium heat, combine all of the ingredients. Simmer until the sugar has melted and the mixture is syrupy, approximately 1-1/2 minutes.
2. Drizzle the warm sauce over the grilled apples or store in a covered glass gar in the refrigerator.
Other Ideas for Grilled Apples
Grilled apples are an excellent and easy dessert. They also make a great side dish when served with grilled pork. Grilled apples are also delicious when chopped up and served over oatmeal for breakfast. If you peel the apples before grilling them, you can cook them until very soft and mash them into a quick homemade applesauce. This is great for healthy baby food.