Haddock is a saltwater fish that is native to the cold waters of the northern Atlantic Ocean. It is commonly found off the shores of Maine, Nova Scotia, and Scotland. Haddock is very similar to Atlantic cod in shape, size, texture, and flavor. I find that it has more of a sweet fish taste than cod. Canadian haddock can range in size from 15 to 30 inches and weigh between 2 and 4 pounds.
Nutritional Value of Haddock
One haddock fillet can provide you with 33% of the recommended daily value of protein. It has no carbohydrates. It is a great source of vitamins B-12 and Niacin. Haddock supplies a considerable amount of the minerals selenium and phosphorous. While haddock does contain fat, none of it is saturated. It is a good food source of omega 3 fatty acids that are essential for cardiovascular health.
Cooking Haddock
Haddock can be prepared in similar fashions to cod. It is often oven baked, broiled, or deep fried in a batter for a classic fish and chips meal. The flesh is white and flaky. It holds together nicely when cooked using one of the methods listed. It can be grilled. However, the flesh is delicate and isn't recommended for grilling on a grate over an open fire. A George Foreman Grill is a better vehicle for getting the grilled flavor and char marks.
Even on a GF grill haddock can stick and may fall apart a little. I don't really mind that because it tastes so good when cooked this way. One way to better prepare haddock on a contact grill is to take the flaky, cooked fish and turning it into a fish cake that can be grilled. Haddock fish cakes are a popular dish on the eastern shores of Canada.
We'll start with a basic grilled haddock recipe. Make enough so that you have extra for making fish cakes. You can make the cakes right away or store the fish in the refrigerator and make the cakes the next day.
Basic Grilled Haddock Fillets
Ingredients:
4 four to six ounce haddock fillets
1/4 tsp crushed saffron threads (optional)
Zest of 1/2 a small lemon
2 TBS extra virgin olive oil (EVOO)
1/4 tsp each of sea salt and black pepper
Total time:10 min – Prep time:5 min – Cook time:5 min – Serves:4 people
Author: Diana
Directions:
1. Pat dry the fish fillets with paper towels. In a baking dish, mix together the EVOO, lemon zest, saffron, salt, and pepper. Place the fillets in the seasoned oil and flip a few times to coat evenly. Set aside.
2. Preheat your GF contact grill to high.
3. Place the fillets on the grill and close the top. Grill for a maximum of 4 to 5 minutes. The fish should be opaque, but not dry, and easy to flake with a fork. Serve with lemon or set aside to use in fish cakes.
Grilled Haddock & Potato Cakes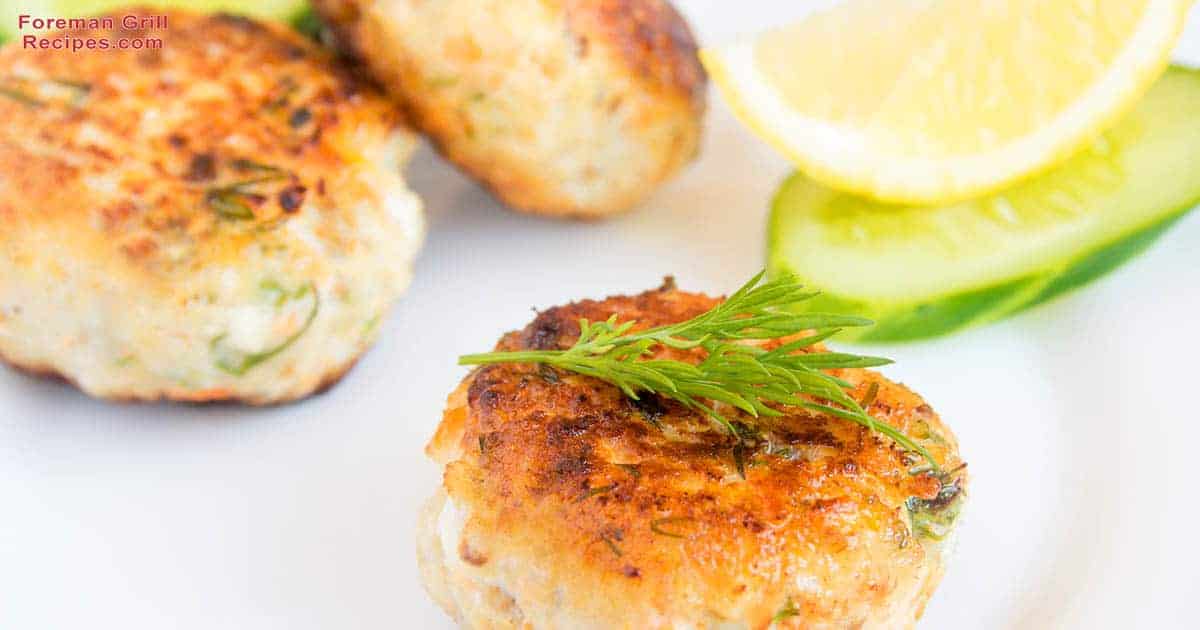 Ingredients:
1 large russet potato
1-1/2 TBS butter
2 TBS milk
1 TBS minced fresh dill (or 1 tsp dried)
1 TBS minced fresh parsley (or 1 tsp dried)
1/2 tsp each of sea salt and black pepper
1/2 a large beaten egg
4 four to six ounce cooked haddock fillets
3/4 cup of any flour
3 TBS EVOO
Total time: 30 min – Prep time: 10 min – Cook time: 20 min – Serves: 6 to 8 people
Directions:
1. Fill a pot with enough water to cover the potato pieces and bring to a boil. Meanwhile, wash and peel the potato. Cut the potato into 1 inch cubes. Place in the boiling water and turn down to a rolling simmer. Cook until fork tender for 15 to 20 minutes.
Drain the water from the potatoes and return them to the hot pot. Turn the heat off. Add the butter, salt & pepper, and herbs. As soon as the butter melts add the milk and mash with a hand masher. Don't over mash – small chunks of potato are okay. Set aside to cool for a few minutes.
2. In a large bowl, flake the fish fillets lightly. It can still be a little chunky. Add the mashed potatoes to the fish and gently mix with your hands to combine. Whisk an egg in a smaller bowl and add 1/2 of it to the potatoes and fish – combine well. Wet your fingers and grab some of mixture to form into patties that are approximately 3" in diameter and approximately 3/4" thick. Place the flour on a plate and coat the patties with the flour. Set this aside while you heat up the GF grill.
3. Preheat your contact grill to high.
4. Place the EVOO on another plate. Put the cakes in the oil and flip to coat generously on all sides. Add more oil if needed. Place the oiled cakes on the hot grill and close the cover. You will have to do this in batches. Grill for 4 minutes, then flip the cakes carefully and grill for an additional 3 minutes until there are good char marks and the outside is a little crispy. Serve with tartar sauce and a crunchy, bitter greens salad, such as this shaved fennel and arugula salad.
Classic Tartar Sauce
Prep time: 5 minutes
Serves: 6 people
Ingredients:
1 cup good quality mayonnaise
1/3 cup dill pickle relish
1 TBS minced sweet onion, such as Vidalia
1-1/2 tsps fresh lemon juice
Total time: 5 min – Serves: 6 to 8 people
Directions:
1. Place all ingredients in a mixing bowl and combine well. Place the sauce in individual ramekins and serve with the fish cakes and salad.