Polenta is a traditional side dish in northern Italy. It is commonly made with either fine or coarse cornmeal that is simmered in water or broth until the starches release and it is creamy. You can use either white or yellow cornmeal. There is also quick cooking polenta available if you are in a hurry.
Making polenta in broth gives it a richer flavor. It is best to use a light broth, such as chicken or veal. You can also add some cream, butter, or cheese for an even creamier texture. You do need to stir or whisk it often so that it doesn't form clumps. The finished product should be thick but slightly pourable. It will firm up by itself for cooking on a George Foreman Grill.
It is recommended that you make a big batch of creamy polenta for dinner and place half of it in a glass baking dish or rolled in plastic wrap. You will place this in the refrigerator overnight so that it is firm enough the slice into individual portions for grilling for another meal.
We'll start with a nice creamy polenta recipe and then follow that with a grilled polenta recipe with suggested toppings.
Creamy Polenta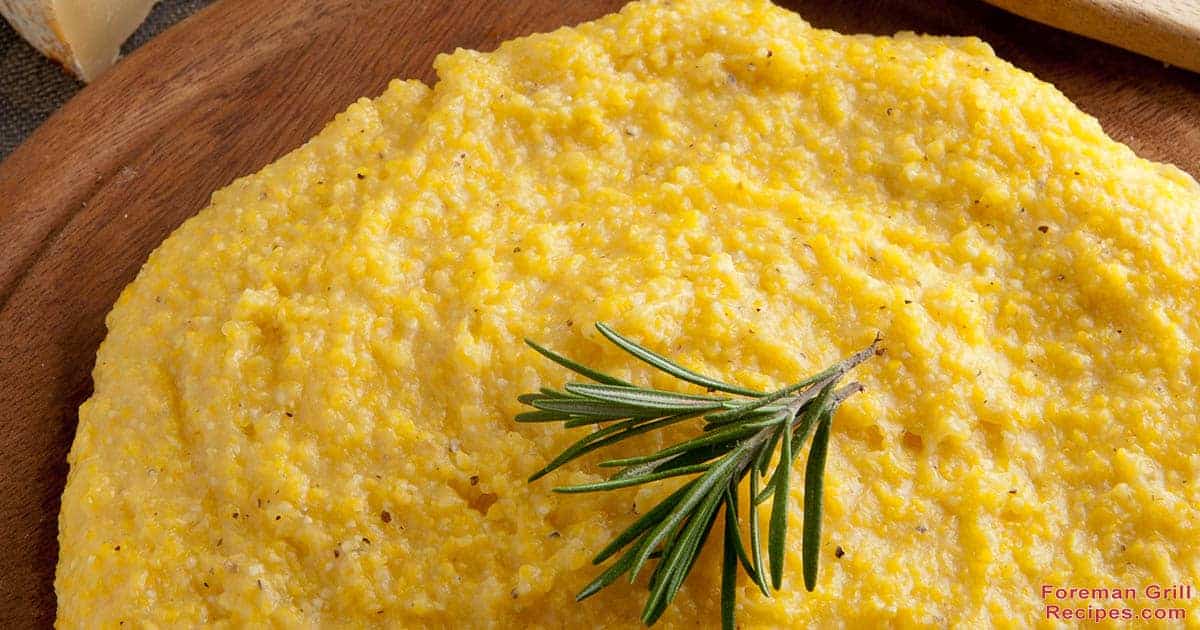 Ingredients:
6 cups water or low-sodium chicken broth
2 tsps sea salt
1-3/4 cups yellow or white cornmeal
3 TBS unsalted butter
2 TBS heavy cream
1/2 cup parmesan cheese (optional)
Total time:30 min – Prep time:5 min – Cook time:25 min – Serves:6 people
Author: Nick
Directions:
1. In a large heavy saucepot on high heat, bring 6 cups of water or broth to a boil. Add the salt. Gradually whisk in the cornmeal. Reduce the heat to low and cook until the mixture thickens and the cornmeal is soft, stirring often, approximately 20 to 25 minutes. Turn off the heat.
2. Stir in the butter and cream until the butter has melted into the polenta. If using, stir in the cheese.
3. Butter liberally a glass or ceramic baking dish large enough to hold 4 cups of the polenta. Cover the dish with plastic wrap and place in the refrigerator. Enjoy the 2 cups of creamy polenta that is still in the pot for dinner.
Grilled Polenta with Basil Sauce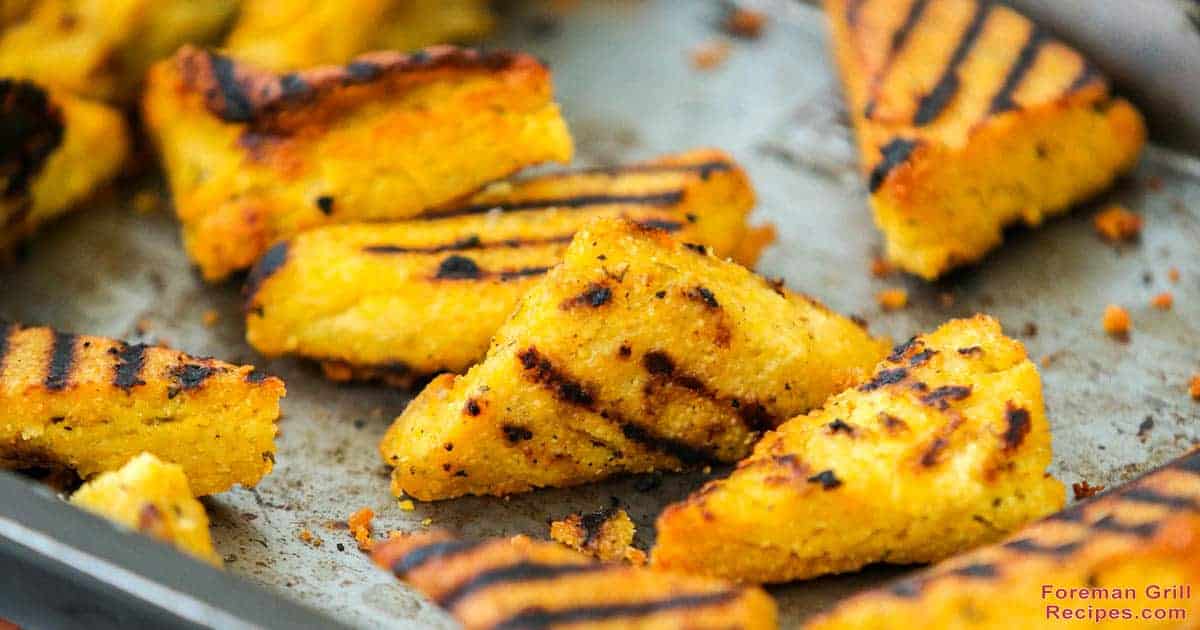 Ingredients:
1 cup packed basil leaves
1 cup good quality extra virgin olive oil
1 tsp sea salt
1/2 tsp freshly ground pepper
4 cups chilled polenta
2 to 4 TBS extra virgin olive oil for grilling
Total time: 17 min – Prep time: 10 min – Cook time: 7 min – Serves: 6 people
Directions:
1. Add the basil, 1 cup of olive oil, salt, and pepper to a blender and process until just combined and smooth. Pour the sauce into a bowl and set aside.
2. Preheat your Foreman grill to high with the top closed, approximately 5 minutes.
3. While the grill is heating up, prepare the polenta. On a clean cutting board, turn the baking dish of cold polenta over so the polenta slips out. Slice into 1/2" thick rectangles or triangles. If the polenta does not come out easily, just slice in the dish and remove with a spatula.
4. Brush both sides of the slices of polenta generously with olive oil. Grill them, in batches, for approximately 7 minutes or until there are nice golden grill marks and the polenta is warmed through.
5. Place the grilled polenta pieces on a platter and spoon the basil sauce over the top, as much as you like. Serve and enjoy.
What to Serve with Grilled Polenta
Grilled polenta is delicious all by itself served as an appetizer. Or, cut it into finger food size and serve as a party snack.
Polenta is often paired with grilled or roasted vegetables, such as tomatoes, broccoli, mushrooms, and radicchio. You will also see grilled polenta being served as croutons on a salad. Polenta is sometimes served in place of pasta with a rich marinara sauce and maybe meatballs. Here are some recipe ideas for what to serve with grilled polenta.
Roasted Tomatoes and Goat Cheese on Grilled Polenta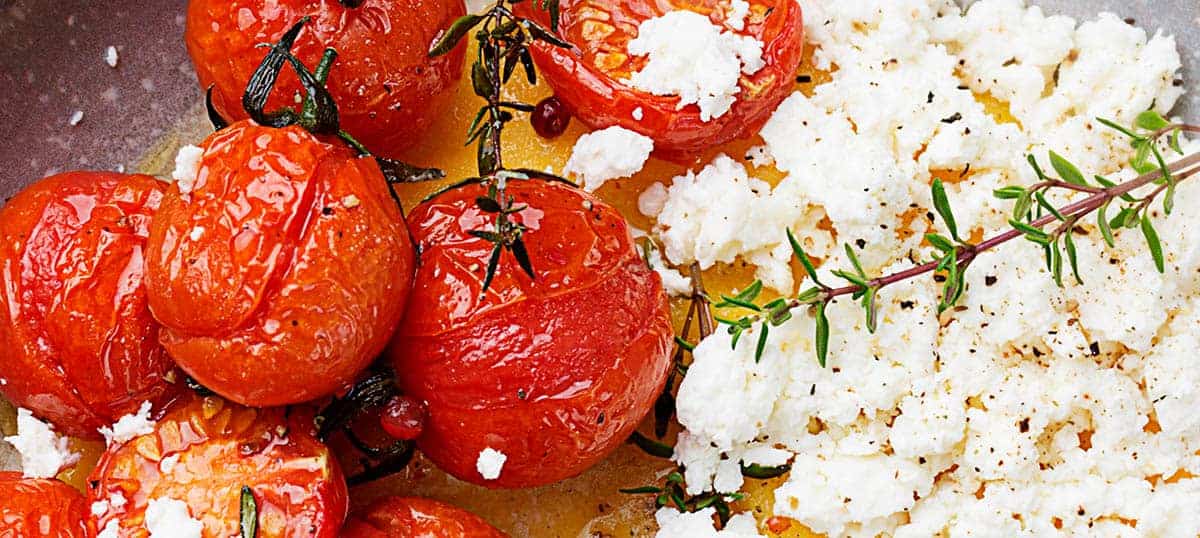 Ingredients:
16 ounces cherry tomatoes
3 cloves garlic, minced
2-1/2 TBS balsamic vinegar
2 TBS extra virgin olive oil
1 tsp sea salt
1 tsp freshly ground black pepper
Pinch of cayenne pepper (optional)
6 ounces soft goat cheese for serving
Total time: 15 min – Prep time: 5 min – Cook time: 10 min – Serves: 6 people
Directions:
1. Preheat your oven to 450°F.
2. In a small bowl, whisk together the garlic, balsamic vinegar, olive oil, salt, pepper, and cayenne. Place the tomatoes in a baking dish. Pour the oil and vinegar mixture over the tomatoes and toss gently to coat. Place in the oven and roast for 10 to 15 minutes until the tomatoes are blistered and soft.
3. Serve the tomatoes and a spoonful of cheese on top of the grilled polenta.
Quick Salad with Polenta Croutons
Ingredients:
1/3 cup mayonnaise
1 TBS Dijon mustard
1 TBS fresh lemon juice
1 garlic clove, minced
1/2 tsp sea salt
1 head of romaine lettuce, trimmed, washed, and torn
1 tsp freshly ground black pepper
1/4 cup grated parmesan cheese
1-1/2 cups grilled polenta croutons
Total time: 10 min – Prep time: 10 min – Serves: 6 people
Directions:
1. Slice the grilled polenta into bite size cubes. You can regrill them to get them crispier.
2. In a large salad bowl, whisk together the mayonnaise, mustard, lemon juice, garlic, and salt. Place the lettuce in the bowl and toss to coat with the dressing. Top the salad with fresh pepper, parmesan cheese, and the croutons.
3. Serve on salad plates.
Easy Marinara Sauce for Grilled Polenta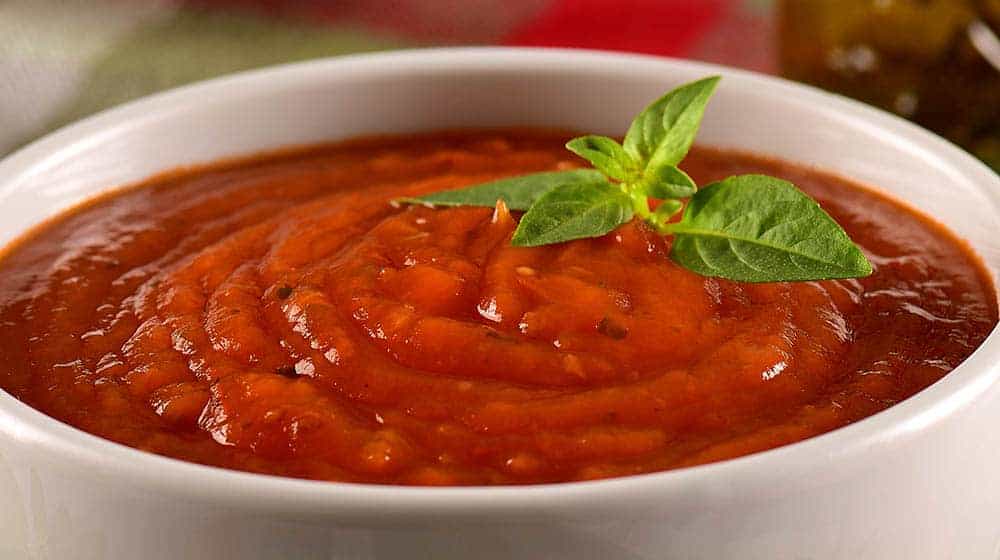 Ingredients:
1/4 cup extra virgin olive oil
1/2 large onion, diced
3 cloves garlic, minced
2 tsps dried oregano
2 tsps dried basil
1/4 tsp cayenne pepper
6 ounces tomato paste
1/2 cup beef or vegetable broth
28 ounce can crushed tomatoes
1 tsp turbinado sugar
Salt and pepper to taste
Total time: 50 min – Prep time: 10 min – Cook time: 40 min – Serves: 6 people
Directions:
1. In a large saucepot on medium-high heat, warm the oil. Add the onion and cook until it just starts to brown, approximately 5 to 10 minutes. Add the garlic, oregano, basil, and cayenne and cook just until fragrant, approximately 1 minute. Add the tomato paste and stir well until warmed through.
2. Add the broth, tomatoes, and sugar. Bring to a rolling simmer. Turn the heat to low. Cover the pot and simmer for 30 minutes. At 30 minutes, check for consistency and flavor. Season with salt and pepper to taste. Continue to simmer for 10 more minutes if not thick enough.
3. Place the grilled polenta slices in shallow serving bowls and spoon the sauce over the polenta. Serve warm.