While I eat plenty of fruits and vegetables, I am not a vegan or vegetarian. I enjoy lean protein, especially if it is organic and sustainably farmed or wild caught. I am pretty sure I eat grilled or roasted chicken breast and thighs 4 to 5 days a week. I find that I can grill a boneless, skinless chicken breast on my Basic Foreman Grill that takes minutes without any elaborate preparation. In fact, I am convinced this is the only way to prepare chicken breast that doesn't dry it out.
I simply pound a boneless breast (1/2 of a split chicken breast) with my meat mallet to flatten it and break up some of the muscle fibers. I coat it with extra virgin olive oil, salt, and pepper on both sides. I cook it on my Basic Grill for approximately 6 minutes. Then, I check it with a meat thermometer to make sure it is 165 degrees Fahrenheit or higher. I prefer a slightly higher temperature. I remove the cooked breast to a cutting board and allow it to rest with tented foil for about 5 to 10 minutes before slicing.
I will grill a few chicken breasts on a Sunday afternoon so that I have plenty for the week to make pasta dishes, salads, and sandwiches. In this post I will share some of my favorite Foreman Grill grilled chicken sandwich recipes. Each recipe is for one sandwich, unless otherwise noted. Increase the ingredient amounts to accommodate your hungry family and friends.
Classic Club Sandwich with Grilled Chicken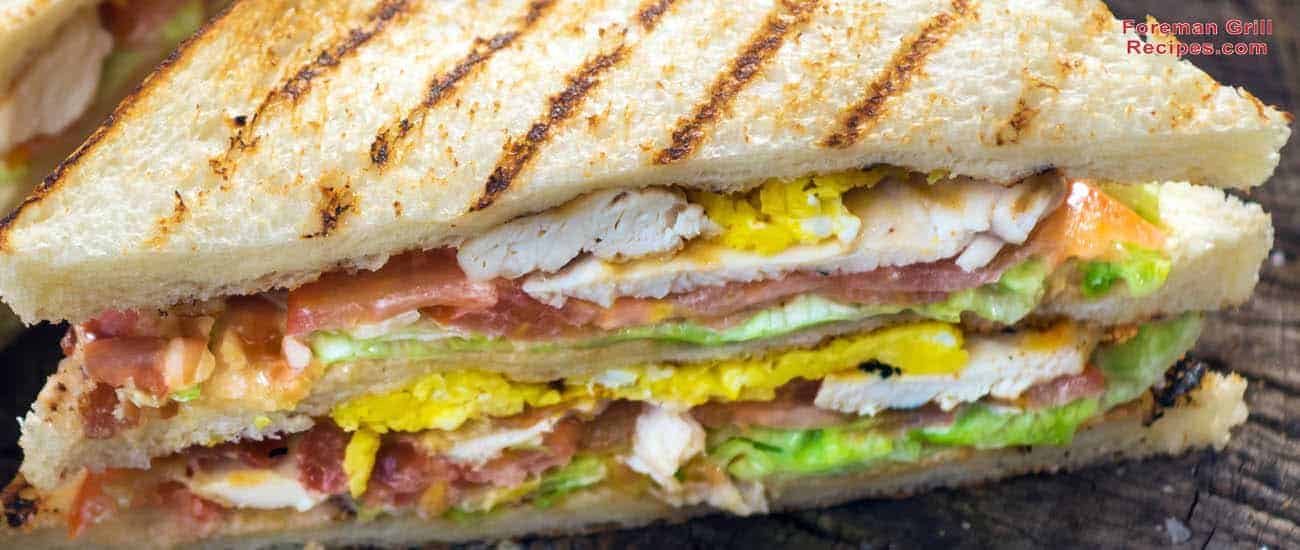 One of my favorite dishes to order at a diner is a club sandwich, that wonderful triple decker tower of toast, sliced meat, bacon, lettuce, tomato, and mayonnaise. Once I received my Foreman Grill I started making my own version of a club sandwich with fresh grilled chicken breast on whole grain sourdough toast. It is a little bit healthier and much tastier.
Ingredients:
1 grilled chicken breast
4 slices grilled bacon
1 TBS mayonnaise
2 leaves of romaine or Boston lettuce
2 thin slices of tomato
Sea salt and cracked black pepper to taste
2 slices whole grain bread of choice
Directions:
1. As soon as your chicken is grilled, remove it to a cutting board to rest. Place the 4 slices of bacon on the hot grill (highest setting), with the drip tray in place, and close the lid. Cook the bacon until crisp, flipping it after 4 minutes, for up to 7 minutes total.
2. While the bacon in cooking, toast the bread, slice the tomatoes, and have your other ingredients ready.
3. Remove the bacon to a paper towel to drain a little more of the fat. Slice the chicken on the diagonal thinly. You will want a good amount of chicken, perhaps 10 slices for a tall sandwich.
4. Assemble the sandwich: spread the mayonnaise on 1 side of each piece of toast and season with salt and pepper. On the bottom piece layer the chicken. Top with the bacon, then tomato, then lettuce. Place the top piece of toast on and put 2 toothpicks through the sandwich. Slice in half between the toothpicks and serve with some chips and a dill pickle.
Healthy Vegetable and Grilled Chicken Wrap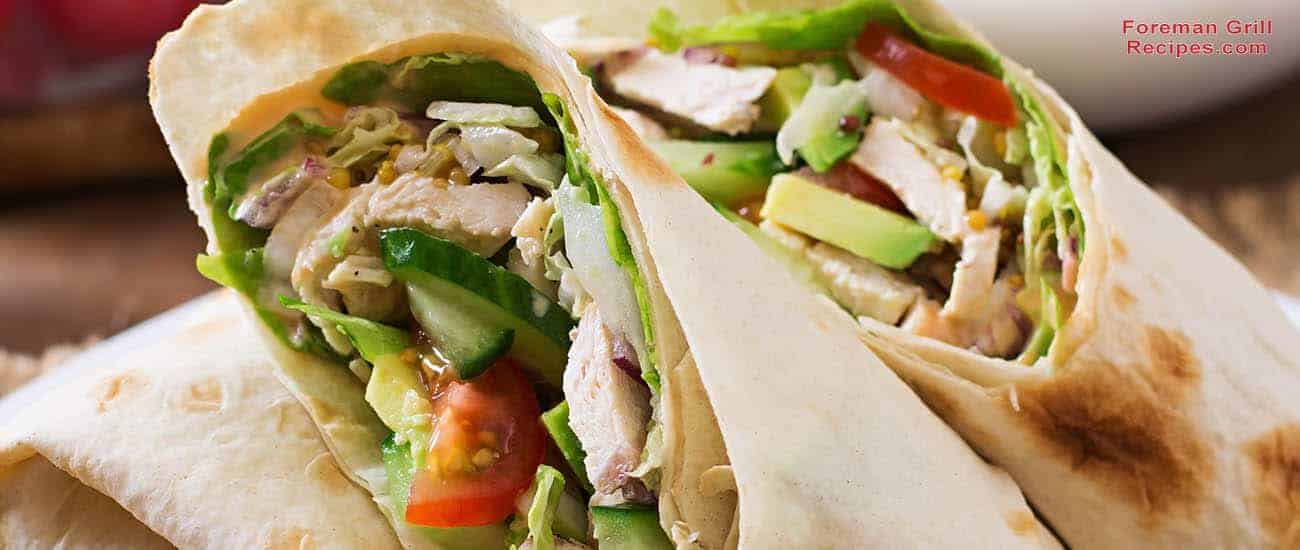 Ingredients:
(one) 8 inch flour or gluten free teff tortilla
1-1/2 tsps honey mustard (more if desired)
1 individual slice of jack cheese
4 leaves of fresh spinach (mature, not baby)
4 slices of fresh avocado
3 TBS shredded carrots
4 thin slices of grilled chicken breast
Salt and pepper to your liking
Directions:
1. Get all of your ingredients ready:
Slice the grilled chicken
Cut the jack cheese into 3 pieces
Slice the avocado thinly
Shred about 1/3 of a carrot with a box grater
Trim the spinach leaves of woody stems
2. Preheat the grill. Then, warm the tortilla on it for just a few seconds. This is especially helpful for gluten free tortillas that tend to be stiff. You can also heat the tortilla in a microwave for 20 seconds to soften it.
3. spread the mustard on the warm tortilla. Place the cheese slices on next. Layer the chicken, avocado, carrots, and spinach. Season with a little salt and pepper.
4. Tightly roll the tortilla, tucking in one open end. Place this on the hot grill and close the lid. Heat through for approximately 1 minute to get some grill marks and to allow the cheese to slightly melt.
The cheese will be soft and the vegetables will still be crisp, crunchy, and just slightly warm. This is my go-to sandwich in winter when it is cold outside and I want something that is both warm and fresh to remind me of the spring to come.
Grilled Curry Chicken Salad Sandwich
This chicken salad is tart, slightly spicy, and sweet. I recommend making it at least an hour before serving, though not necessary. I find that the chicken soaks in the curry if it sits covered in the refrigerator for 30 minutes and up to overnight.
Ingredients:
1 grilled chicken breast that has cooled to room temperature
2 TBS mayonnaise
1 TBS plain yogurt
1/4 tsp lemon juice
1/2 tsp curry powder
1 TBS slivered & toasted almonds
1 TBS golden raisins*
Sea salt and cracked pepper to taste
Soft roll of choice: burger bun, brioche, or croissant all work well
Mixed baby salad greens (optional)
*You can substitute black raisins, dried cranberries, diced apple, or sliced grapes for the golden raisins.
Directions:
1. Cut the chicken into small pieces, approximately 1/2 inch cubes.
2. In a large bowl, mix the mayonnaise, yogurt, lemon juice, and curry powder. Add in the chicken, almonds, and raisins. Season with a little salt and pepper and gently mix to coat the chicken evenly.
3. Slice your roll and fill it with the chicken salad. You can add some pre-packaged mixed baby salad greens for added freshness if you like.
Grilled Chicken "Reuben" Sandwich
A Reuben is traditionally made with corned beef or some type of brined, seasoned, and braised or slow roasted meat. Today you will often see lighter versions made with turkey pastrami or seasoned tempeh for vegetarians. This sandwich is a healthier take on the classic Reuben using lean grilled chicken. Feel free to marinate your chicken breast in olive oil, lemon juice, and bold seasonings, such as chili powder, garlic powder, and black pepper prior to grilling it.
Prepare the dressing and all other ingredients while the chicken is grilling. Leave your Foreman Grill on while you assemble the sandwich. You will be grilling the assembled sandwich to achieve the texture of a crunchy grilled cheese.
Ingredients:
2 TBS mayonnaise
2 TBS sour cream or plain yogurt
2 tsps ketchup
2 tsps minced dill pickle
Sea salt and cracked pepper to taste
10 thin slices of grilled chicken
2 slices of good Swiss cheese
2 pieces of rye or pumpernickel bread
3 TBS of prepared sauerkraut
Softened butter
Directions:
1. Grill the chicken breast and remove it to a cutting board to rest.
2. While the breast is grilling, prepare the dressing by mixing together the first 5 ingredients in a small bowl.
3. Butter one side of each piece of bread. Turn the bread over, buttered side down. Spread some of the dressing on each slice of bread. Place a slice of cheese on the bottom slice of bread. Add 5 pieces of grilled chicken. Top that with sauerkraut, 5 more slices of chicken, and another slice of cheese. Place the other dressed and buttered piece of bread on top.
4. Place your assembled sandwich in the grill or Panini press and close the top. Grill until the bread is a toasty golden brown and the cheese has melted. This should only take 3 minutes or so.
5. Serve your warm sandwich, sliced in half, immediately with a side of dill pickles and a coleslaw of your choice.
Easy Grilled Chicken Banh Mi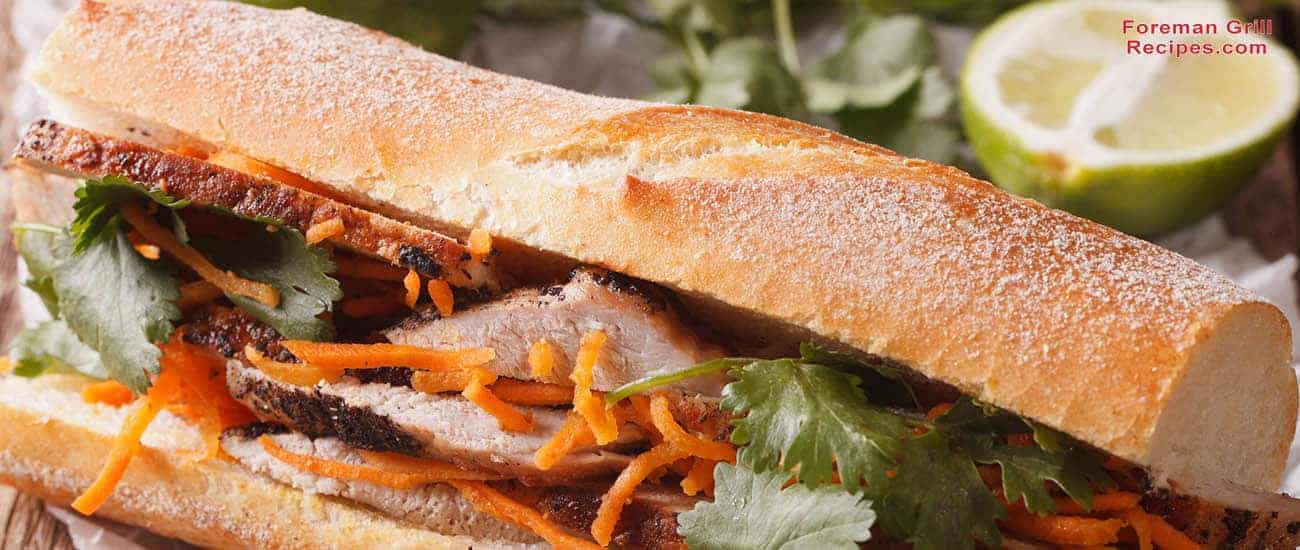 Banh Mi is a Vietnamese sandwich with French influences. It is often a fast street food. This sandwich can be either vegetarian, made with tofu, or it can be meat based. The secret to a good banh mi is crusty French bread and pickled vegetables. While you can certainly make your own pickles, it is so much easier to pick up either lacto-fermented, pickled, grated carrots from your organic market or even a jar of giardiniera from your super market. Giardiniera is a medley of spicy Italian pickled vegetables.
You can marinate your chicken breast in Asian dried spices and Asian liquids the night before, if you have the time, but it isn't necessary. This could include Chinese five spice, ginger, garlic, tamari, sesame oil, or mirin. My simpler approach to this sandwich is to make an Asian flavor infused mayonnaise.
Ingredients:
1 grilled chicken breast
1 twelve inch French baguette
2 large or 4 small romaine lettuce leaves
8 thin slices of cucumber
4 thin slices of red onion (optional)
4 TBS pickled vegetables
8 thin slices of jalapeno peppers, seeds removed
A few sprigs of fresh cilantro
Mayonnaise Dressing:
1/4 cup mayonnaise
1 tsp sriracha, or other hot sauce
1/4 tsp tamari or soy sauce
1/8 tsp ground ginger root pwder
Pinch of sugar
Directions:
1. Grill your chicken and set it aside while you prepare the other ingredients.
2. Slice the cucumber, onions, and jalapenos.
3. Cut the baguette in half. Slice each half lengthwise leaving it still attached on one side to open like a hinge. Place the open baguette halves, inside face down, on the hot grill and toast for just a minute or so to get some light grill marks.
4. Slice the chicken into 1/4 inch thick pieces across the grain.
5. Place some mayonnaise on all inside faces of the bread. Begin layering one face with lettuce, then cucumber and onion. Place the chicken next. Layer the pickles, cilantro, and jalapenos on top of the chicken.
6. Close the sandwich and press it down with your hands to flatten it just a bit. This will help meld all the flavors and keep the ingredients from falling out. Serve wrapped in parchment paper or a paper towel to eat casually or on the go and to catch the juices of the pickled vegetables.
Buffalo Grilled Chicken Sandwich
If you like spicy buffalo chicken wings, you are going to like this grilled chicken sandwich. This recipe will serve 2 people. You can increase the recipe to make a game day special and serve smaller portions on slider buns. Fried onions rings and cold beer will complete the meal.
Ingredients:
Grilled chicken breast (1 large or 2 small)
1 TBS butter
1/4 cup of your favorite red hot sauce
1 cup shredded iceberg lettuce
4 thin slices of a red onion
2 hardy rolls, such as Kaiser
1/4 cup mayonnaise
1/4 cup sour cream
2 ounces blue cheese, crumbled
Directions:
1. As soon as the chicken breast has grilled, place it on a cutting board to rest while you make your sauces.
2. Melt the butter in a small saucepan and mix in the hot sauce. Place this in a large bowl. Slice the chicken breast into 1/4 to 1/2 inch slices on the bias (diagonal for more surface area). Place the warm chicken slices in the bowl of sauce and coat all the pieces evenly. Set this aside while you prepare the remaining ingredients.
3. In another bowl, mix the mayonnaise, sour cream, and blue cheese well.
4. Shred the lettuce by hand or on a box grater. By hand works a little better. Slice your onions as well.
5. Slice the rolls in half. Place some blue cheese dressing on both halves. Layer the bottom with iceberg lettuce. Next, layer on your dressed chicken. Top with some onion slices and place the top piece of roll to complete the assembly.
These are a little messy, so be sure to have plenty of napkins on hand.